Kristin Davis in "Boy, Girl, Boy. . ."
Season Three, episode 34 of "Sex and the City" (titled "Boy, Girl, Boy. . .") featured the striking Kristin Davis in a dazzling FTM crossdresser role. The guy she's dating is a photographer who takes pictures of crossdressers. He convinces the reluctant Charlotte/Kristin to pose for him. She looks hot. They have sex. Lord, why can't I find a girl like that? P.S.---here, hopefully, is a link to a wider selection of pictures of Kristin Davis in male disguise.
http://llwyd.tripod.com/dismale/sexcity.htm
Beatrice Lillie in "Exit Smiling"
Here's a Golden Oldie for you FTM Crossdresser fans, dating back to the silent movie days of the roaring 1920's. I saw it on TCM, which runs silent films every week on Sunday night. A Google search told me it's not (yet) on DVD. "
Exit Smiling
" (1926): This film starred a Canadian actress, Beatrice Lillie, who was a celebrated comedienne in the theatre (in America and the UK). But she only made a handful of films. It was claimed that she couldn't "adapt" her "broad" stage-acting style to movies. "Exit Smiling" was Lillie's only silent film, and as far as I know, her only starring movie role. The film costars Jack Pickford, who was the brother of silent film superstar Mary Pickford. The print TCM showed was in excellent condition---a clear and sharp picture, accompanied by a musical soundtrack that was commissioned just a few years ago. Well done, Ted Turner. Beatrice Lillie (age 30-ish at the time) plays a young woman who longs to be a stage actress. When a touring theatre company comes to her town, Lillie jumps at the chance to join it---as a cook and servant. The fun starts when one of the male actors, an alcoholic, blacks out just before a performance. Lillie, who by then has watched and memorized every part in the show, persuades the director to let her play the drunk's male part. That isn't the whole story, but it's the only part that matters if you love FTM crossdressers. Lillie dons the actor's costume, a classic tuxedo. Her hair is already cut into a short flapper style, but she greases and combs it into a realistic-looking men's style. Then, the best part: Lillie pastes on a thin handlebar mustache (a thicker 'stache would've been better, but this one ain't bad)! She hits the stage and ably plays the guy's part. Beatrice Lillie was no great beauty, but she was an attractive woman. And she did make quite a convincing man, even if her FTM disguise is played for laughs. Yes, they trot out the old saw in which Lillie's fake mustache tickles her nose, causing her to sneeze it off---onstage--- and then reapply it crookedly. There is one brief scene, above all, which lands Beatrice Lillie on this list for me. In male drag and backstage between scenes in the play, Lillie happens to overhear two sinister-types plotting against her unrequited love (Jack Pickford). Lillie hides behind a piece of scenery and listens closely. The camera focuses in on Lillie's face, as she stares directly into the lens; her brows are knitted and she has an intense look of concentration in her eyes. Her full, closed lips are framed and highlighted by the fake mustache. You can see behind the disguise, the actress simultaneously embodying the attractive female she is and the handsome male she's pretending to be. It's very hot. Lillie's performance is quite good. She does some Lucy-style slapstick, but it's more understated and graceful than the redhead's. Lillie's character is not an oaf, but a naive young woman muddling her way through a unique situation. She even managed to avoid the exaggerated gestures and expressions that were in vogue in film acting then, playing her part with an easy and natural realism. I didn't see any of the "broad"-ness I later read about on the Internet. It's a shame Lillie didn't make more films. Especially, more films with a FTM motif. But at least, there is "Exit Smiling". There is a picture of Beatrice Lillie in FTM drag that's available through Google image search. Just click on "advanced" image search, then key in "Beatrice Lillie" and "Exit Smiling". Now, TCM, please put this film on DVD.
Whatever Happened to Joyce Hyser?
"
Just One of the Guys
" (1985): Joyce Hyser (28 years old when this film was released) plays a high school reporter named Terry. Her teachers dismiss her writing because (she thinks) of her gender. Terry disguises herself as a guy and tries out life with a 'Y' chromosome at a new school. She finds that her disguise works a little too well, leading to all kinds of comical gender-bending mischief. What elevates this beyond the typical 1980's high school crap is the wonderful performance of Joyce Hyser as Terry. She excels as Terry, in both male and female modes. While she plays the role for laughs, she doesn't "camp" it up. She ably portrays a realistic guy, right down to her body language and voice. It's too bad that this talented actress didn't go on to the greater fame she deserved. . .and to another fantastic FTM crossdressing role. Isn't it about time for an update? (Thanks to everyone who suggested this film!)
Blink and You'll Miss It
The 1991 fantasy, "
Hook
", was a landmark film for those both in front of and behind the camera. It marked the end of Steven Spielberg's reign as Hollywood's infallible wizard of movie magic. It highlighted the fact that Julia Roberts', portraying a blonde and completely charmless Tinkerbell, acting skills ran the gamut from A to B. It suggested that, perhaps, Robin Williams' finest hour really did come (and go) on "Mork and Mindy". And it ensured that no one who ever saw this overblown, halfbaked 'update' of the classic "Peter Pan" story would ever be able to watch the original again, without suffering flashbacks from this cinematic travesty. BUT. . .one uncredited, blink-and-you'll-miss-it cameo saves the day. An almost unrecognizable Glenn Close has a walk-on as an anonymous pirate. She looks so realistic as a man, you can hardly recognize her. And any woman who can look good in a false beard is a beauty in my book. Glenn, a great FTM crossdresser role should be on your to-do list. (Thanks to
actresses in character
for the photos!)
"Tipping the Velvet"
This 2002 BBC TV drama comes highly recommended. I haven't seen it, so I'll simply include the BBC America's factoid summary here: "A huge success in the UK, even before filming began,
Tipping the Velvet
was dubbed controversial for its honest and up-front approach to lesbianism. A sparkling cast includes Rachel Stirling, Keeley Hawes, Anna Chancellor, Jodhi May, Hugh Bonneville and John Bowe." (Thanks to
Puer
for suggesting one that got past me)
Another Popular Favorite
"Yentl"
(1983): The early 1980's produced a slew of FTM crossdresser-themed movies. One of the most famous was first-time director Barbra Streisand's adaptation of Isaac Bashevia Singer's "Yentl". Yentl (played by Streisand)is a young woman in late 19th Century Europe. She longs for an education, but in those pre-feminist times, that opportunity is offered to men alone. So Yentl disguises herself as a man and heads off to school. Things get complicated when she/he gets involved in a romantic triangle that includes Mandy Pantinkin and Amy Irving. How complicated, you ask? Well, two of them get married. . .and the bride gets the surprise of her life! I found the sight of Babs in male drag pretty hot back in '83. Now, however, her FTM disguise seems a bit thin, but she does okay. There are a few too many dippy songs, but Pantinkin and Irving give affecting performances. (thanks to
Lullie GG
for a good suggestion)
This was a favorite FTM film recommended by several over on the crossdressers.com forum, where this idea of a FTM crossdressers film list was first posted. I suppose it's also the most well-known of all FTM crossdresser movies, as well.
"Victor/Victoria"
(1980): Unknown, struggling singer Victoria (played by the great Julie Andrews) is at her wits' end. Friend Robert Preston helps her come up with an idea that catapults her to fame and fortune. She disguises herself as a man, "Victor", who crossdresses as a woman in a musical cabaret act. Soon, she/he is the toast of 1920's Paris. The smitten James Garner and his jealous girlfriend Lesley Ann Warren, however, suspect that something is up. Ms. Andrews, surprisingly, makes a convincing (for musical theater) guy; she later reprised the role onstage in the 1990's. [During the 1990's Broadway production, Andrews' understudy was actress/singer Anne Runolfsson, who reportedly did a damn fine job, as well. Anne looks great in the tuxedo & cigar combo, which is why I included her photo here] Andrews and Garner's romantic give-and-take is classic. This is, to date, one of director Blake Edwards' best films. (Thanks to
CaptLex, DonnaT, veronica and misunderstood
for the fine suggestion).


Sienna Miller in "Casanova"
SPOILER ALERT!
I saw "Casanova" yesterday, starring Heath Ledger as the title character, the 19th Century Italian. . .well, what was he? He didn't seem to have a job, so let's just call Casanova a guy who pursued passion. Passion in the form of every (and I do mean
every
) beautiful woman he ever met. It's a great movie; it captures the era very well and has many memorable characters ably played by the actors, including Jeremy Irons, Lena Olin and Oliver Platt. If you get a chance to see it, by all means, do so. But there's one main reason I think "Casanova" is a fantastic film. Namely, because it features the exquisite Sienna Miller playing Francesca, the crossdressing, intellectual feminist heroine with whom Casanova falls head-over-heels in love. Sienna is steaming hot in female mode, but she's even better as a FTM crossdresser. I swear, by the end of this movie, I needed fresh air and a cold compress. The Francesca in male disguise photo that I included above will explain why. I read an interview with Sienna online. Apparently, the crossdressing aspect is one of the reasons she took the Francesca part. Hmm, a lady after my own heart! Also, this is not the first time Ms. Miller has donned male garb. She played the gender-bending Celia in a British stage production of Shakespeare's "As You Like It" (see photo---smudged face & hat), as well. Let's hope more FTM crossdresser parts will be in Sienna's future, since she plays the man so well. Kudos to director Lasse Hallstrom for a superior effort. Let's hope Hollywood remembers them all, especially the singular Sienna Miller, at Oscar time.
Anita Yuen in the "Who's the Man" series
For a guy who loves FTM crossdresser films, Asian cinema is a blessing. FTM gender-benders abound, in everything from samuri kung fu adventures to contemporary love stories. Two of the more notable additions to the genre are Hong Kong director Peter Chan Ho-sun's "He's a Woman, She's a Man" (1996) and the sequel, "Who's the Woman, Who's the Man" (1996-97).
To summarize "He's a Woman, She's a Man"
: An unknown young female singer named Wing, played by the beautiful Anita Yuen, disguises herself as a man to get a singing audition with record producer Sam Koo (Leslie Cheung). Wing, in male disguise, gets the audition and wins the heart of Sam. Their romance is a bit more complex than that; I suggest those interested in its twists and turns read Gary Morris' fine article "Hong Kong's 'Who's the Man?' Series" at www.brightlightsfilm.com.
To summarize "Who's the Woman, Who's the Man"
: The challenges continue for Wing, as she tries to live publicly as a famous male singer and privately as Sam's lady love. The best scene takes place during a photo shoot that's supposed to be a recreation of "Gone with the Wind"---with one gender-bending variation. Anita Mui plays an actress playing Rhett Butler, complete with fake mustache. Scarlett is played by Wing---yes, a woman disguised as a man disguised as a woman. They share a kiss that, as Morris writes, nearly melts the film. Why can't remake-happy Hollywood remake these two movies? With, maybe, Jennifer Aniston in the "Wing" part? One can always dream. The "Who's the Man" series is available from amazon.com. But note that the films are NOT dubbed into English, only English subtitles.


Little-Known 1980s Goody
"Thieves of Fortune" (1989). This straight-to-video saga is notable for only 2 reasons: 1.) It was the last film the famed cowboy actor Lee Van Cleef ("The Man Who Shot Liberty Valence", "Once Upon a Time in the West") made before he died; 2.) it features ex-"Baywatch" babe Shawn Weatherly in a fantastic FTM crossdressing role! This movie concerns two distant cousins (one being Shawn Weatherly, whose character is named "Peter" for reasons never explained) competing for the million-dollar fortune left by their dead uncle, played by Van Cleef. Why does Shawn take on male drag? "May the best MAN win!" instructs Uncle Lee, through his will. Then, you have to sit through a pile of horsecrap that seems to have been dreamed up by a bunch of 7th graders in detention hall. But the sight of Shawn is worth it. Shawn makes a good-looking FTM crossdresser. In her false beard and mustache, she bears a slight resemblance to the early 1990s Axl Rose. Of course, the fact that Shawn makes no effort to disguise her voice or alter her body language spoils the deal. But still, kudos to her for tackling a challenging role. I happened across this film on cable late on night. As far as I can tell, "Thieves of Fortune" never made it to DVD. But we can always hope. Thanks to Transgender Film Guide for the lovely photo of Shawn as "Peter".
A Long-Lost Gem
"9 to 5" (TV show, NOT the movie, 1982). Yet another crappy sitcom that managed to scuttle a premise lifted from a fairly entertaining movie. One episode has remained fresh in my mind: a hapless secretary (well played by the cute and talented Valerie Curtin) dresses up as a male character named "Guy" (get it?), for reasons I've long forgotten. But Valerie looked damn fine in a fake beard. There's a picture of her (identified only as "guest") standing with co-stars Rita Moreno and Dolly Parton's sister on sitcomsonline.com. Check it out!
Shakespeare the FTM Crossdresser Lover
William Shakespeare. Poet. Playwright. Lover of women disguised as men. You've got to admit, ol' Will had a bigger thing for ladies dressed as lads than I do. Let's hit the highlights:
"The Twelfth Night":
Viola disguises herself as a guy named Cesario in order to play matchmaker for a man she secretly loves and some other chick. 17th Century humor ensues. Fine British actress Imogen Stubbs took on the FTM role of Viola/Cesario in the 1996 film version of the play. That's her in guy mode above, standing next to Helena Bonham Carter. Stubbs made a convincing guy. And she looked rather handsome in a false mustache. Good show, Imogen!
"As You Like It":
Rosalind dresses up as a dude named Orlando to teach the blithering idiot she secretly loves how to rightly woo a female.
"The Merchant of Venice":
A wealthy young woman, Portia, and her best friend Nerissa disguise themselves as male law clerks to save yet another dimwitted Shakespearian hero who ain't worth saving from Shylock's wrath for reasons too long to cover here. Then we come up to a film that captured the FTM gender-bending twists and turns in its own story:
"Shakespeare in Love"
(1998), the one good movie that Gwyneth Paltrow ever made. A young woman in Shakespeare's England longs to be an actress. These pre-feminist pigs, however, don't let the ladies take the stage. In order to bypass the gender bias, Gwyneth disguises herself as a young actor named "Thomas Kent". The sight of Ms. Paltrow in a goatee turns me on. She wins a part in Shakespeare's latest opus, and the Bard's heart, as well.
The Runner-Up!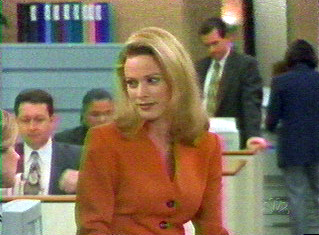 "Working" (late 1990s). This was a TV show starring Fred Savage. Wasn't on long, 'cause it wasn't too good. One episode lifted the plot from "Her Life as a Man". Actress Kate Hodge played the rejected female job seeker, who gets the job when she dons a male wig and goatee. I caught the tail-end of this one back in '97 or '98 and haven't seen it since. Why don't they rerun these damn things? Kate Hodge came close to stealing Robyn Douglass' title. She was so hot. Why didn't they build a whole show around Kate's fascinating character, and NOT boring ol' Fred Savage? P.S.---Here is, hopefully, a more complete selection of photos of Kate Hodge in male drag.
http://lwyd.tripod.com/dismale/working.htm
The "Citizen Kane" of FTM Crossdresser Films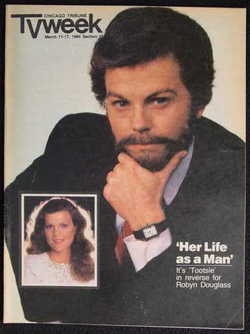 1.) "Her Life as a Man" (1984). The reason (outside of Lucy) I fell in love with FTM crossdressers. Robyn Douglass plays a female reporter who's rejected, due to her gender, for a job. She disguises herself as a man and gets the job. Douglass remains the most realistic-looking FTM crossdresser dude I've ever seen in a movie. She devotes herself completely to the part of Carly/Carl, going for a totally realistic look and voice. Why Robyn Douglass (pretty damn fine in female mode, as well) did not win an Emmy for this part is beyond me. She'd pass in any locker room. Check the cut-out bins or keep a sharp lookout on cable, because this film is hard to find.
(Note: I don't own copies of all the films posted here and I don't own the equipment to provide copies of anything to anyone)
The film features a long scene of Douglass making herself up as the song "Walk Like a Man" plays on the soundtrack. If you share my fetish, it's positively sizzling. I first saw "Her Life as a Man" the night it premiered. I quaked with arousal then and I still do on every subsequent viewing. God bless you, Robyn Douglass. (Special thanks to The Makeup Room/Actresses in Character for photos)
What is This All About?
My whole life, I've known I'm a straight guy. I've always loved women. But since I was about 12 years old, I've found the sight of a woman disguised as a man to be incredibly erotic. Don't ask me why, I just do. Way back in junior high school, I watched every rerun of "The Lucy Show", hoping to catch the episodes in which Lucy dons a male disguise for some strange reason. Lucy dressed in a tuxedo and a black male wig, banging on a kettle drum in a symphony orchestra; Lucy wearing a gray mens' suit and a white false beard, probably to "teach Ricky a lesson"; Lucy clad in a cowboy outfit and a floppy black mustache. Lucy in female garb? Okay, in her younger days. Lucy in male disguise? My teenaged hormones raged! Throughout the past 25 years, without really thinking about it, I compiled (in my mind) a list of movies and TV shows I've seen in which actresses, to advance the story's plot, disguised themselves as men and attempted to "pass" as men in a social or professional setting. I find the sight of a woman masked behind a false beard, mustache and male wig to be so alluring. Her attempts to "play man" in an often male-dominated society I find endearing. Her efforts to disguise her voice and body language intensify the attraction, as does the actress' struggle to stay "under cover". The climax is the revealing---when the ho-hum average guy removes his disguise, to unveil the beautiful, vivacious woman hiding underneath. Wheeeww! I guess you'd call it a fetish. But not in an obscene or demeaning way. Every title on my list is rated R or below. I don't do filth and that's final. I never discuss my FTM crossdresser attraction to any of the women I date. I wouldn't dream of asking any of my girlfriends to crossdress. It seems too "unique" a concept. Most women would probably be offended. It's not my intent to offend anyone. Women, as women, are beautiful. But women in male disguise are twice as nice. For this reason, my attraction is limited to movies and TV shows. For the same reason, this web site will be, too. The internet is a wonderful resource. I've scoured the Web and learned about titles I'd either forgotten or never would've heard about. But in spite of this wealth of info, I found nothing exclusively devoted to FTM crossdresser movies. This genre has existed since the time of Shakespeare---himself a FTM crossdresser fan who included the phenomenon in at least 4 of his classic plays---and still, it languishes without the attention it deserves. A while back, on a messageboard called www.crossdressers.com, I posted a discussion thread called "The Top 10 FTM Crossdresser Movies". It was pretty well-received. Over my head, a light bulb appeared. Thus, I created this site. I'm going to kick this party off by listing most of the selections from the above-mentioned discussion thread. If I can do so without bending any copyright restrictions, I'll include pictures. If you know of any FTM crossdresser titles, feel free to chime in here. I do, however, have 4 requirements for all visitors: 1.) Keep all comments constructive and reasonably clean. I'll junk this site at the first sign of hostility or negativity. 2.) Forget all X-rated selections.
Porn does NOT interest me, and neither does anything demeaning to women in any way
. 3.) No cartoons or kid actors. All selections must feature "live" actresses age 18 and up. 4.) With any suggested film or show, please provide as much information as possible: title, year, actresses, a 50-word maximum summary and the web address where you found it. This way, we'll all be happy. How often will this web site be updated? Whenever I get the chance. No offense, but like you, I have outside responsibilities. This site is supposed to be fun, not a second job. Some suggestions may not be posted and I won't tie myself to a strict time schedule. When it gets boring or seems played out, that's it. But I hope it's cool while it lasts. Thanks for stopping in. Enjoy!